`O Tiger-lily,' said Alice, addressing herself to one that was waving gracefully about in the wind, `I wish you could talk!' `We can talk,' said the Tiger-lily: `when there's anybody worth talking to." Alice was so astonished that she could not speak for a minute: it quite seemed to take her breath away. At length, as the Tiger-lily only went on waving about, she spoke again, in a timid voice -- almost in a whisper. `And can all the flowers talk?' `As well as all can,' said the Tiger-lily. `And a great deal louder.'
Hello from all of us in Wonderland! This week we would like you to have a go at making your own flowers! So get fun creating, we can't wait to see what you come up with! This week we are being sponsored by
'Some Odd Girl'
, who have gorgeous Digi Stamps that the DT have been luckily enough to create with this week. So get creating your own flowers for your chance to win some of your very own '
Some Odd Girl'
Images! You have until Friday the 10th of Dec to play long with us!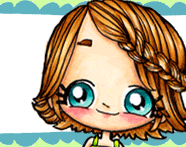 For my card I used Artsy Kaylee. I couldn't resist her, we kind of had the same hair. I cut my card using Sizzix scallop circle. I rummaged through my huge stash of flowers to match them to my color scheme. For the white flower I put Distress Ink (Black Soot, Barn Door, and Pumice Stone) on a craft mat and dipped my flower on each color.
Image: Some Odd Girl Artsy Kaylee
Copic E000, 00, 11, 17, 19, 27, 30, 31, 33, 74, 77, 79
Sentiment: Stampers Anonymous
DP: Sassafras Lass - Vintage Yummy
Nesties: Standard Circles LG
Look no further for some inspiring examples from the members of our Twisted Tea Party:
Jessica aka MAD HATTER
Donna
Andrea
Emma
Erin (me)
Gloria
Ky
Lynne
Margie
Peggy
Randi
Sammi
Tasha
Tracy - Guest Designer
Remember, you have all week to play this challenge! Link your project to the
Oh Alice
! Challenge blog by midnight, Friday, December 10th to be entered in the drawing. Happy creating!!