`And ever since that,' the Hatter went on in a mournful tone, `he won't do a thing I ask! It's always six o'clock now.'
A bright idea came into Alice's head. `Is that the reason so many tea-things are put out here?' she asked.
`Yes, that's it,' said the Hatter with a sigh: `it's always tea-time, and we've no time to wash the things between whiles.'
`Then you keep moving round, I suppose?' said Alice.
`Exactly so,' said the Hatter: `as the things get used up.'
`But what happens when you come to the beginning again?' Alice ventured to ask.
The Mad Hatter's tea table was full of tea-things, with place settings all the way around and many teapots and teacups. Your challenge this month is to have a teapot or teacup on your project, and, as an option, to use something OTHER than a stamped image as your focal point!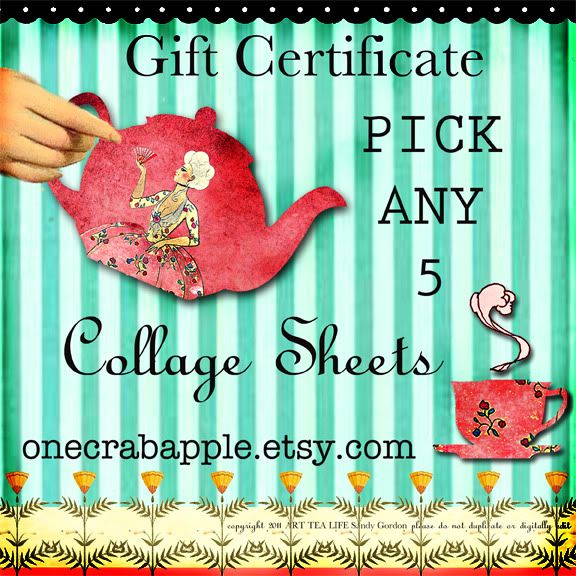 That's because The Altered Alice design team will be showing off with digital collage sheets from
One Crabapple [

Etsy Store

|

Blog

]
, which has of the most interesting and different Alice in
Wonderland
categories I've seen! The owner and artist is taking care of some family priorities, so if the store is closed when you visit, just put in your email in to be notified when it reopens. It is well worth waiting for I promise; most of the design team members had a difficult time making their choices and a couple of us needed all of everything in the Alice category!
The winner will have their choice of five collage sheets from One Crabapple!
And the winner is..... Go
here
to see....