"First came ten soldiers carrying clubs; these were all shaped like the three gardeners, oblong and flat, with their hands and feet at the corners: next the ten courtiers; these were ornamented all over with diamonds, and walked two and two, as the soldiers did. After these came the royal children; there were ten of them, and the little dears came jumping merrily along hand in hand, in couples: they were all ornamented with hearts. Next came the guests, mostly Kings and Queens, and among them Alice recognised the White Rabbit: it was talking in a hurried nervous manner, smiling at everything that was said, and went by without noticing her. Then followed the Knave of Hearts, carrying the King's crown on a crimson velvet cushion; and, last of all this grand procession, came THE KING AND QUEEN OF HEARTS." -- Chapter 8; Alice's Adventures in Wonderland
Since February contains Valentine's Day,
The Altered Alice
is challenging you to show us your HEART (or hearts)
, in whatever form you'd like to interpret that! Our sponsor this month is
The Octopode Factory
, who is offering a $30 Etsy shop gift certificate to one randomly selected winner.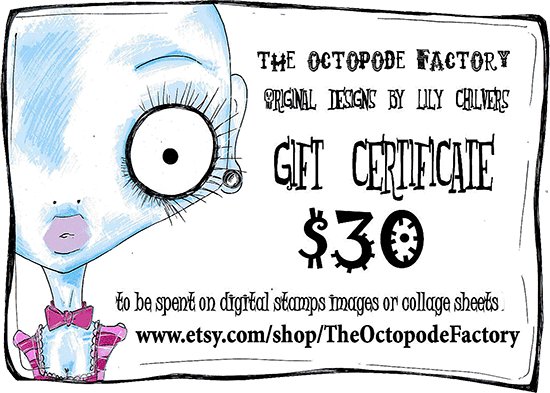 The Octopode Factory
has amazing and unique images born from the fertile imagination of Lily Chilvers. The
Etsy Shop
carries her digi stamps and collage sheets, and she has
large and small rubber stamps
available through her blog. Be sure to check out all the incredible
Alice in Wonderland
characters and digital stamp sets, and visit! And for fun and inspiration, be sure to visit
Lily's blog
and
The Octopode Factory Friday challenge blog
, or
TOFF
for short!
This is a very short month, so you have only until Friday, Feb. 24 to submit your entry! As always, projects that feature Wonderland will have two chances at the prize instead of one. Multiple entries are fine, but each must be on a separate post. Please join us
here.
This is a very short month, so you have only until Friday, Feb. 24 to submit your entry!